Jamie Williamson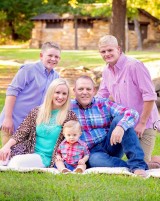 Email
Agent
Direct: 405-665-2888
Jamie has been a licensed insurance agent since 1998 when he first worked for Federated Insurance selling commercial insurance. He joined Country Insurance in 2004 and sold personal lines, commercial lines, and retirement plans while becoming one of the top producing Country agents in the nation. He became a partner with Premier Insurance in Jan 2009 and opened Premier's second office in Oklahoma.
Jamie previously graduated from Wynnewood High School in 1994 as Salutatorian of his class. He was a member of the back-to-back state championship football teams in 1991 and 1992 which set a state record for 37 consecutive wins. Jamie earned All-State honors as a running back and he was a state champion in track. Jamie was proudly apart of six Oklahoma high school state championships. After high school, Jamie graduated from the University of Central Oklahoma in 1998 with Summa Cum Laude honors while playing football for the Bronchos at UCO. He moved to Minnesota and graduated first in his class at Federated in Owatonna, Minnesota. He returned home to Oklahoma in 1999 to begin a career in the insurance profession.
Jamie is married to Kelsey Williamson and together they have three boys. Kaleb will graduate from Wynnewood High School in May 2019 and then begin a military career in the United States Navy. Nash Wyatt Williamson was born in 2006 and is currently a student-athlete in the Wynnewood Middle School. Carter Lane Williamson was born in May 2017.
In his spare time, Jamie is a member of the Quarterback club, Board of Directors for Landmark Bank, Chamber of Commerce, FFA/4H Boosters, and coaches youth baseball. Jamie and his boys operate Premier Show Pigs and have a passion in supporting agriculture in Oklahoma.